CLASSIC MEATBALLS & SPINACH PASTA

Ingredients

 

300g Protein World Protein Pasta

2 tbsp olive oil

1 onion

125g spinach

500g pack reduced fat beef mince

10g finely chopped fresh oregano

4 crushed garlic cloves

400g tin chopped tomatoes

10g finely chopped fresh parsley

10g parmesan
Method
Heat 1 tbsp oil in a large frying pan over a medium heat and fry the finely chopped onion for 5 mins until softened.
Add half the spinach and cook for 3-4 mins until wilted and any excess liquid has evaporated.
Leave to cool for 10 mins.
Tip the vegetables into a large mixing bowl with the beef mince and oregano.
Mix together until evenly combined then shape into 16 even-sized meatballs.
Heat the remaining 1 tbsp oil in the frying pan over a medium-high heat and fry the meatballs for 5-6 mins until evenly golden, turning regularly.
Add the garlic to the pan and fry for 2 mins.
Add the chopped tomatoes, 100ml boiling water and season to taste.
Simmer for 8-10 mins, stirring occasionally, until the sauce has thickened and the meatballs are cooked through.
Add the remaining spinach and cook for a further 2 mins until wilted.
Meanwhile, bring a pan of water to the boil and cook the pasta according to packet instructions.
Drain, then return to the pan along with the meatballs and tomato sauce.
Mix together until the pasta is evenly coated then divide between 4 plates.
Sprinkle with parmesan and parsley to serve.
---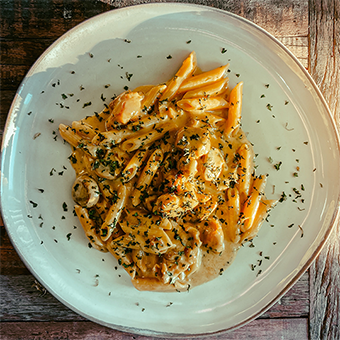 CREAMY VEGAN MUSHROOM PASTA - SERVES 4
Ingredients
300g Protein World Protein Pasta
45g butter alternative
1 medium chopped onion
480g sliced mushrooms
2 crushed cloves of garlic
1 tsp dried oregano
30g plain flour
400ml tinned coconut milk
80ml prepared vegetable stock
½ tsp salt
1 tsp black pepper
1 tsp dijon mustard
Method
Put the pasta on to cook according to the package instructions.
Add the butter alternative to a pot and fry the onions until softened.
Add the sliced mushrooms, crushed garlic cloves and oregano and fry until the mushrooms are softened.

Add the plain flour and fry with the mushrooms for around 1 minute before adding the coconut milk and vegetable stock.
Stir until combined and then keep stirring until it reaches a simmer and is at the desired thickness.
Add the salt, black pepper and dijon mustard and stir in.

Add the cooked pasta in with the sauce and toss together until well coated.
Serve with a sprinkle of black pepper or oregano.
---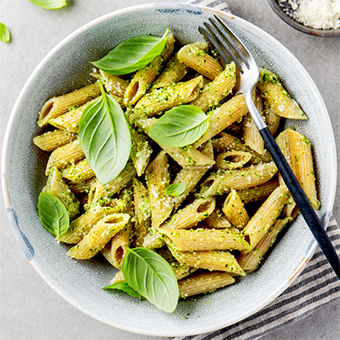 SIMPLE FRESH PESTO PASTA- SERVES 4
Ingredients
300g Protein World Protein Pasta
half a chopped onion
1½ tbsp pesto
1 tbsp olive oil
1 tbsp grated parmesan cheese
salt to taste
ground black pepper to taste
fresh basil for garnish
Method
Put pasta in a large pot to boil and cook according to packet instructions, then drain.
Meanwhile, heat the oil in a frying pan over medium low heat and add the pesto, onion, and salt & pepper.
Cook for around five minutes, or until the onions are soft.

In a large bowl, mix pesto mixture and grated parmesan cheese into the pasta.
Serve hot or cold, garnished with fresh basil.
---